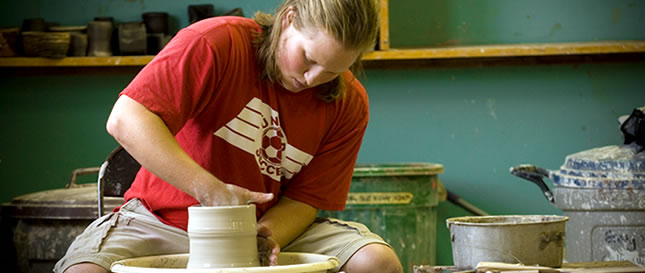 Art majors have an opportunity to volunteer working in an Arts and Design Department sponsored activity off campus.
ABOUT THE ART & DESIGN PROGRAM
The Art and Design Program is designed to prepare students for various careers in art; the commercial arts field as graphic designers and commercial artists, the fine arts field as working artists, or the educational field as art teachers. There are three areas of concentrated study within the Art and Design Program. They are Graphic Design, Studio Art, and Art Education. In their second year at Tusculum, all art majors select one specific area from the three areas of concentrated study within the Art and Design Program. This three-leg structure is designed so that students receive more concentrated training in their specific area of interest within the broad field of art. During their four years at Tusculum College, students in the Art and Design Program build a strong base of knowledge necessary for graduate school.
In addition to the three major areas of concentrated study, the Art and Design Program offers an Art Minor to students interested but not majoring in art. The Art Minor is designed to compliment and enhance a Tusculum student's education within his or her chosen major field of study.
Students who choose the Graphic Design concentration are introduced to commercial typographic, graphic design, and layout considerations, as well as commercial illustration. The use of computers to produce various publications and to produce layout work and digital artwork is covered. Special consideration is given to the development of skills and ideas relating to the commercial applications of art. Internship opportunities with regional advertising, graphic design, and commercial art businesses are possible as part of our upper level course offerings.
Students who choose the Studio Art concentration are grounded in foundation level courses. These courses teach the language and paradigm of the art world. Students are exposed to the flow of ideas and to the history of art studied through the artists and artwork our world's cultures have produced. They progress through the beginning, intermediate, and advanced levels of studio courses we offer and that appeal to them. Our studio course structure is designed to first expose students to the fundamentals of working with a particular medium such as oil paint. Then in upper level courses, students push forward their command of art and increase their ability to use a medium by learning more advanced techniques and developing higher levels of skill, control, and personal investment.
Students desiring K-12 licensure for teaching art in a public or private school system can complete the course requirements specified under the "Art Education Concentrated Area of Study" heading. The Art and Design Department works closely with our Tusculum College School of Education to ensure that teaching licensure requirements are met with this Arts and Design Program concentration.
As a degree requirement, all Art and Design majors, regardless of their concentrated area of study, must prepare and install an exhibition of their work during the last semester of their studies before graduating from Tusculum College.
Art majors have an opportunity to volunteer working in an Arts and Design Department sponsored activity off campus at the Greene Valley Development Center, an educational center meeting the needs of developmentally disabled adults. Greene Valley and Tusculum College work collaboratively on therapeutic art activities involving students from both facilities. It is one of the ways the Art and Design Program involves art majors in the civic arts mission of this College.
Facilities for the Art and Design program are housed within the Shulman Center and the Art Building on the Tusculum campus. Lecture-based courses, computer-based courses, and foundation courses are typically taught in the Shulman Center. Most studio courses are taught in the Art Building.
The Art Building is the home of the Allison Fine Arts Gallery. This is an on-campus art gallery with an educational mission to expose all College students to contemporary fine art. This mission specifically applies to our Tusculum art majors who can choose to become involved in some of the curatorial responsibilities associated with any fine arts gallery. There are approximately eight art exhibitions organized and presented to the public during each academic school year.