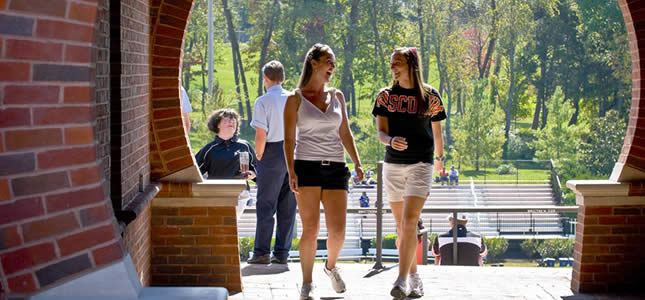 The Athletic Training Education Program (ATEP) at Tusculum College is accredited by the Commission on Accreditation of Athletic Training Education (CAATE).
The Tusculum Collge ATEP provides the educational and clinical foundation to prepare students to successfully challenge the Board of Certification examination and serve as active leaders in the athletic training profession. ATEP provides the student with the cognitive, psychomotor, and affective skills necessary to work with all aspects of athletic injury, illness, and performance.
Students seeking employment as a high school athletic trainer are strongly encouraged to pursue teacher certification. This requires students to fulfill both Athletic Training and Education department requirements. The Athletic Training Education Program is designed for those students who want to meet the course work and clinical requirements established by the National Athletic Trainer's Association Education Council, Board of Certification (BOC) and the Commission on Accreditation of Athletic Training Education, (CAATE).
In addition to course work, students must complete six semester-length clinical rotations working under the supervision of an BOC certified and state licensed athletic trainer, who is an Approved Clinical Instructor (ACI) or an allied health professional serving as a Clinical Instructor (CI).
Students complete clinical observation during the Freshman year and upon formal admission into the ATEP, are assigned to an ACI at the beginning of their sophomore year. Student athletes enrolled in ATEP need to be aware of the clinical requirement of this program and plan accordingly.
Hour requirements and clinical course sequencing necessary for successful completion the ATEP major while participating as an intercollegiate athlete may necessitate the student needing more than the traditional eight semesters to complete an undergraduate degree. Students wishing to pursue graduate studies in Athletic Training should maintain a 3.0 GPA or better through graduation. Students identifying athletic training as their major will be assigned to an ATEP faculty member for academic advising.