OUR STUDENTS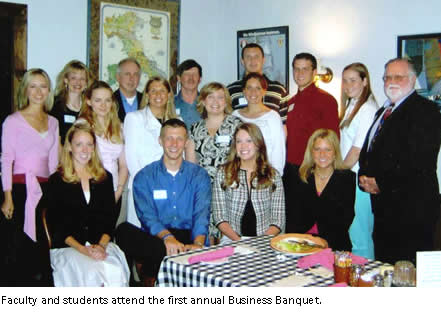 The Business Banquet...
The Business Banquet is a yearly dinner for students and faculty of the Business Administration program.
The informal and collegial atmosphere is conducive for celebrating the previous year's accomplishments and for looking forward to the next year's challenges.
On the Business program...
" I came to Tusculum not really knowing what I wanted to do. I thought of a few diffrent options but couldn't make a decision. Everything really started to come together when I took the Principals of Management class. The things that I was learning really had my attention, and that is how I knew what major I wanted. It wasn't untill later that I added the second major of Accounting it was challenging, but it will be well worth it as I start my masters degree in the fall of 2006. The things that I learned in the Business Program at Tusculum have shaped my life in a mulitude of ways, and I am proud to say that I am a graduate from Tusculum College."
-- Amber Blankenship