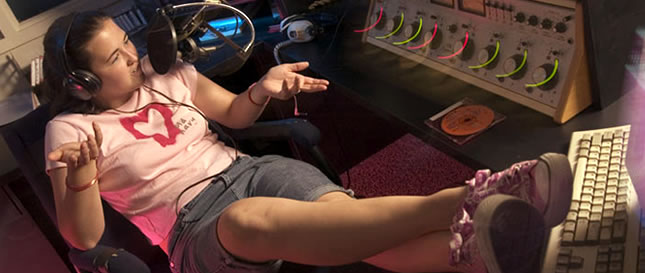 Digital Media majors receive the necessary support to master the technical aspects of the major in accordance with their individual needs and goals and to exercise the aesthetic and creative knowledge of their crafts.
ABOUT THE DIGITAL MEDIA PROGRAM
The Digital Media department continues Tusculum College's long-standing tradition of preparing students for careers in media. From the first radio courses taught in 1947, to current offerings in digital content creation, the mission of the department has been to evolve along with the social and technological advancements of an ever-changing media landscape.
The Digital Media program stresses the necessary balance between analytical and applied learning. The program will teach both the technical and aesthetic skills vital to becoming a productive consumer and producer of media. A rigorous curriculum challenges the students to be artists and technicians, while stressing the importance of collaboration with fellow students and faculty. In addition to conventional aspects of video production, students will also study the role of media convergence and how it affects content and delivery.
The 56-credit program includes a 32-credit core that teaches a solid foundation of digital media skills including motion picture production, live multi-camera production, scripting, nonlinear editing, computer graphics/animation and production management. The remaining 24 credits are comprised of additional courses from within and outside the department, allowing each student to customize their curriculum to their specific interests. Some possibilities include sports broadcasting, documentary production, marketing, and new media.
ADMISSION TO PROGRAM
Students interested in applying to the Digital Media program must be in good academic standing and have completed DIGM 121 (Introduction to Digital Media). To be admitted to the program, a student must meet with and receive written approval from the Digital Media department chair.
All students admitted to the Digital Media program are required to have a Macbook Pro laptop computer, with current versions of Apple's Final Cut Studio and Adobe's CS Production Premium software. This computer will be required for all 200- 400 level Digital Media courses, unless otherwise noted. An opportunity to acquire a Macbook Pro computer and required software at a discounted rate will periodically be offered to students.