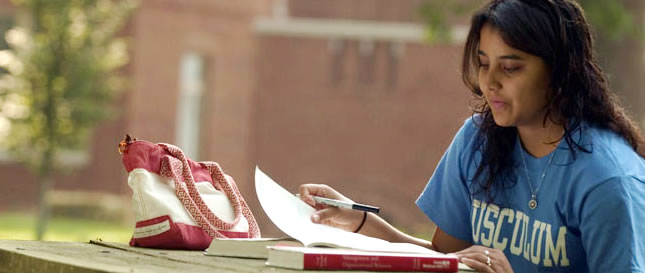 English is an excellent choice for students interested in education, business, law, publishing, and social work.
ABOUT THE ENGLISH PROGRAM
The English major is designed to prepare students for graduate study in the field; those seeking a foundation for postgraduate work or study in fields related to English (e.g., education, journalism, communications, editing and publishing, law, theater); and those who want a humanistic base in reading, thinking, and writing for a liberal arts education.
As majors in English at Tusculum College, students will have access to a varied group of experts engaged in exploring different aspects of literature and writing. The block program gives the faculty time to work with students on their skills and allows the faculty to offer special projects and field experiences (like trips to special libraries and to art events).
Graduate School Success
Students graduating from the Creative Writing Program at Tusculum have been accepted into first-rate graduate programs with excellent financial aid packages, full tuition waivers, fellowships, and teaching assistantships, including (but not limited to): Washington University in St. Louis, Chatham University, Columbia College (Chicago), the University of Central Florida, Florida Atlantic University, the University of Central Arkansas, the California Institute for the Arts, the School of the Art Institute of Chicago, Florida International University, the University of Tennessee at Knoxville, the University of Memphis, the University of Tampa, and Georgia College & State University.
Other students have followed up their undergraduate work with study in other areas of personal interest ranging from mortuary science to massage therapy.
Read more about Tusculum College Creative Writing student and alumni success.
The English Department also supports the mission of citizenship and service through its projects and through the study of ethical and social issues in literature and writing.
CHOOSE FROM FOUR CONCENTRATIONS
The English Program offers students a choice of four concentrations:
Literature
Creative Writing
Journalism and Professional Writing
Teachers Licensure in English
The English department also offers departmental honors for majors, which is intended to increase a studentís preparedness for graduate school. Departmental honor is awarded by the English faculty by students who complete the following requirements:
Submit a letter of intent to the department chair,
Complete ENGL 301 Honors Reading (1 semester hour),
Complete ENGL 445, Honors Thesis, which is approved by a department faculty member (a thesis director) of the studentís choice, and a second faculty reader.
MINORS
The English Program at Tusculum College also offers the following options for minors:
Journalism
Literature
Creative Writing
OUR FACULTY
Our faculty include literary scholars and critics, practicing journalists, fiction writers, and poets. Through your interactions with our faculty and your peers, the programs in English will help you develop your critical, analytical and creative skills.