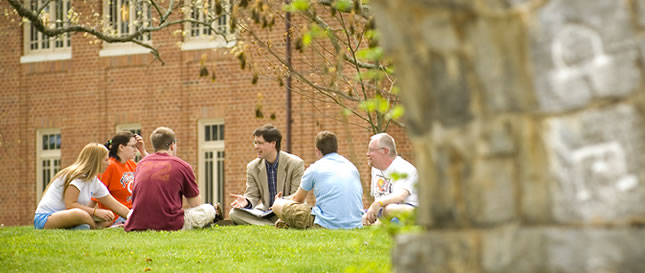 The framework of the History program gives students the opportunity to tailor their studies to their personal interests.
ABOUT THE HISTORY PROGRAM
Are you looking for a program of study that lays a strong foundation for a variety of important professional fields while helping you develop an insightful cultural literacy regarding our ways of life and how they came to be what they are? If so, we invite you to consider the History Program at Tusculum College.
The History Program serves students interested in pursuing careers in government, the law, or education. History courses help students hone the skills they will need to pursue a career as a civil servant, an attorney, teacher, or community leader, while preparing them for post-graduate studies required for most of these careers.
Courses in the History program have been designed with student interests in mind and further students development both intellectually and morally, preparing them for active citizenship in both the local and global communities. As they progress in their course of study, students also develop a knowledge base needed to fulfill their professional aspiration in such areas as information management, research, and historic preservation.
The framework of the History program gives students the opportunity to tailor their studies to their personal interests. History majors choose five of the 11 courses required for completion of the major. While the required courses cover topics such as American and western history, students may choose courses on such diverse topics as the Civil War, modern East Asia, and American labor and the working class. An independent major can also be developed through the combination of History with other related or appropriate courses. Students pursuing a history minor also have a choice of courses to take with three electives among the five courses required.
A History Education major is available to students, providing both the benefits of a History degree and preparation for licensure to teach history in grades 7-12. Students pursuing this career goal have the same opportunity to explore their interests in history while also learning teaching methods needed to be a successful instructor in a secondary classroom. Students may also pursue a history education minor in addition to an education major.
THE WHY AS WELL AS THE WHAT
At Tusculum College, our entire curriculum is shaped by the "Civic Arts," which we define as those skills and aptitudes needed for successful living in a modern democratic society.
One way the Civic Arts shape our History Program is in the way we probe the deeper meanings of history, the "why" as well as the "what" of what has gone to make our society and culture what they are. In our History 125 and 225 courses, for example, entitled "The People Shall Judge: From Philadelphia to the Present," we examine the evolution and growth of concepts of self-government and citizenship in the United States. And we relate those to the frameworks of the Biblical and republican traditions that helped shape our nation's heritage.
At Tusculum College we approach history from perspectives both broad and narrow: global subjects such as the growth and impact of Islam, and more narrow and focused historical topics such as American history from the perspective of Native Americans themselves. When you complete your history studies at Tusculum College, you will find your perspective on the world has been broadened and deepened, yet also sharpened and focused.
ENJOY TRAVEL?
Tusculum students can participate in an international study program that provides scholarships for a semester of study at Imperial College of the University of London. This program, particularly well-suited to history majors, is offered through the Private College Consortium for International Study, a partnership of 14 colleges in the Applachian College Association, of which Tusculum is a member. Each member school can have two students per semester, possibly more, selected to receive a scholarship that covers program fees, tuition, rent, and allows funds for food and entertainment.
Students in the program live in an apartments near Imperial College in the affluent Kensington area of central London.
QUALIFIED PROFESSORS
Tusculum College's full-time professors in the History major are highly qualified and hold terminal degrees. Not only are they experienced teachers, but also published authors.
At Tusculum College you learn from history professors who themselves are proficient students of subjects they care about deeply.