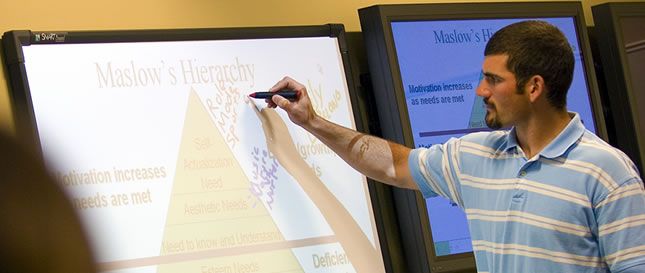 In addition to our emphasis on the scientific method, we focus on how psychological knowledge and thinking shapes our lives, communities, and world.
ABOUT THE PSYCHOLOGY PROGRAM
The Psychology program at Tusculum College prepares graduates who pursue a variety of professional opportunities. Our students upon graduation go on to work in human/social services agencis, in business or retail, or pursue continued education in graduate school in psychology or an allied field. The major provides students an exploration of the broad field of psychology while encouraging the development of active, responsible citizenship. The latter emphasis is the focus of the Civic Arts that characterize the Tusculum College curriculum. To this end, the program strongly emphasizes the integration of classroom knowledge and scientific thinking with real-life applications.
At Tusculum, students explore what it means to be a psychologist, not just talk or read about it. Students and faculty often go into the community to observe classroom, courtroom, or therapeutic settings or to conduct research. A common theme across these opportunities is the role of empiricism; that is, students come to understand how theories are supported by data gathering and experimental evidence, and develop critical thinking skills to evaluate research contributions to the field. Our small class size means that you will have individualized attention from your instructors and the possibility of taking independent study or research courses in which you study something of particular interest.
In addition to our emphasis on the scientific method, we focus on how psychological knowledge and thinking shapes our lives, communities, and world. Our courses stress how the science of psychology can explain and guide real-life applications. As a freshman and sophomore, you study and produce case studies, learn research methods by proposing a research program, and work in small groups to propose solutions to complex, real-world problems. As a junior or senior, you will be able to serve as an intern at a service agency, where you will be supervised by a professional working in the field as well as your faculty supervisor. In our Senior Seminar, you have the opportunity to think about how your skills and interests fit with various job opportunities, and are assisted in applying to graduate or vocational school if this is your choice. Psychology students have an advisor who is a faculty member in the program, so you always have someone to turn to for assistance in choosing courses and pursuing special interests. Psychology is a challenging major at Tusculum, but our graduates are pleased with their education and have been successful in graduate school and/or finding jobs that use their knowledge and skills.
Lauren Colmer, a recent graduate in the Psychology program, says that the Psychology program "does a thorough job of preparing students, whether it be for graduate school or a job right out of college. The professors are very knowledgeable and friendly and well-versed in their areas. People often think of pscychology as a single kind of thing, but there are many areas within the field of psychology. At Tusculum we have professors from different areas of the field. The curriculum is fun, exciting, and up-to-date, and that's important because psychology is constantly changing and growing."
Lauren, now working for an agency serving special needs clients in Northeast Tennessee, plans to later obtain a nursing degree and combine psychology and nursing in her life vocation.
Psychology majors have their own organization, the Psychology Club, recognized by the Student Government Association. This group provides a "home base" for many students, a source of information about psychology but also a source of friendships that will continue beyond graduation. The club sponsors guest speakers to discuss clinical practice, job opportunities, and graduate school applications. With faculty, the group also organizes trips to conferences; each year several students attend and often present their original research at the Southeastern Psychological Association's annual conference or the annual Blue Ridge Undergraduate Research.
Lauren Colmer found the Psychology Club added important elements to her education. She personally took part in two Psychology Club trips, one to New Orleans, one to Atlanta. "There are all kinds of trips and stuff in the Psychology Department," she says. "And there are scholarships available."
The psychology major provides a focused, yet flexible, program of study that easily allows for students to combine the major with minors in many other programs, such as English, history, or biology. The program also coordinates with the School of Education to offer students the opportunity to be licensed to teach high school psychology. The Psychology program prepares students for a wide range of careers. Students may want to pursue careers in the helping professions, such as social service, health, corrections, or rehabilitation. Because Psychology majors have experience in collecting, evaluating, synthesizing and reporting information, they may seek employment in administrative, public affairs, business, or computer programming positions. Many students decide to continue their education beyond the undergraduate degree, and enter graduate programs leading to masters or doctoral degrees in any of the specialties within psychology (clinical, physiological, social, community). They may also choose to combine an undergraduate psychology degree with an advanced degree in law, business, education, or some other academic or professional field.
OUR FACULTY
There are four full-time faculty in the Psychology program. Each is actively involved in working with students, serving the broader College community, and pursuing professional interests such as community based research, neuropsychology, and industrial organizational psychology. A common classroom support system used by all faculty is WebCT, an online platform that allows for extended faculty/student contact beyond the classroom setting.
OUR ALUMNI
Our alumni are active in different careers and many have obtained advanced degrees in related fields. Jason Giesler has completed his masters' in criminal justice and Sarah Collins is currently completing her masters' in mental health counseling. Treabele Varela, a masters graduate from Loyola in Chicago, is a manager in a long term care facility while Leeann Cornett is completing her masters in clinical social work.