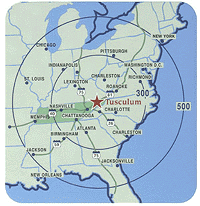 The best way to learn about Tusculum College is to visit and find out for yourself.
Tusculum's historic, wooded 140-acre campus rests in one of the prettiest parts of the nation - East Tennessee and the foothills of the Smoky Mountains. The picturesque silhouettes of the Unaka Range are visible from our campus and provide a striking backdrop to our new Scott M. Niswonger Commons building.
Interstates 81, 40 and 75 provide excellent highway connections to north-south and east-west routes. Three airports, Tri-Cities, Knoxville, TN, and Asheville, NC, are all within a 70 mile radius and provide excellent air travel choices. Tusculum sits on the outskirts of the town of Greeneville, county seat of Greene County, with a population
of about 65,000.
Greeneville and the East Tennessee area are conveniently accessed from the Southeast, Northeast, and the eastern Midwest. The map on this page illustrates approximate distances from Tusculum College to some major U.S. cities.
Join us for our Open House in the fall or the spring when we bring faculty, students, and admission and financial aid counselors together to answer your questions. It's "one-stop-shopping," and you will learn everything there is to know about being a student at Tusculum.
If you would prefer to come to campus on your own, we'd be pleased to give you a special tour and answer your questions about our programs. You can register online to arrange a visit to campus. Tours are given Monday through Friday at 10:00 AM and at 2:00 PM. Tours are also given on Saturday at 9:00 AM and noon, but you must schedule Saturday tours no later than the preceding Friday by noon.
While you are here you can attend a class with a professor in your major, take part in activities with current students, and join us for lunch. At the end of the day, you will discover that you feel right at home.
---
ALSO:
-You can schedule a visit online or by calling the Tusculum College Office of Admissions at 1-800-729-0256, 423-636-7312, or ssusong@tusculum.edu.
© 2004 Tusculum College | Telephone: 1.800.729.0256 | email: webmaster@tusculum.edu