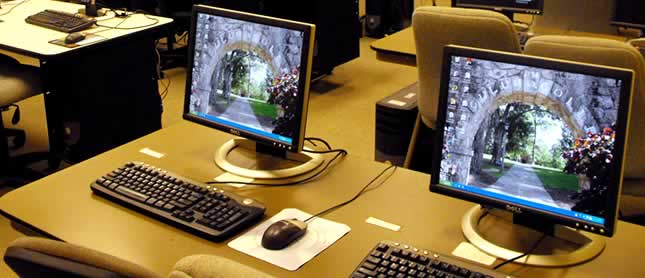 Graduate and Professional Studies provides a variety of program choices for working adults looking to build on their education and to enhance their career opportunities.
APPLIED INFORMATION TECHNOLOGY CONCENTRATION
16 semester hours.
The Applied Information Technology Concentration will provide a broad base of knowledge about modern information technology needs and solutions for business. Emphasis will be placed on fundamentals primarily in the area of Internet-age technologies. The curriculum is designed to ensure that graduates have a strong background in the areas of relational database design and deployment, web design and web systems, fundamentals of network administration and network design and integration of these tools and techniques.
In addition to case studies and theory, students will be expected to do practical projects exposing them to the actual nature and practice of technology professionals. Students will be expected to design and implement a relational database solution for a real or fictional business problem. Students will be expected to design and implement a web page with client-side scripting, media, and HTML/XHTML. Students will be expected to design and deploy a network solution for an appropriate business need.
Concentration Courses
CISC 305. TELECOMMUNICATIONS FOR BUSINESS. 4 semester hours.
A first course in networking, Telecommunications for Business will emphasize the role of telecommunications and digital networks in the modern business world. Students will learn the basic mechanisms of modern computer networks including the TCP/IP suite, the OSI model of networks, hardware and physical components of the network and application layer tools and techniques. In this course, students will complete a hands-on Topics include power and influence, integrity, social responsibility, corporate citizenship and ethical challenges. Learning Outcomes: Ethics of Social Responsibility and Self-Knowledge.
CISC 316. WEB DESIGN AND E-COMMERCE. 4 semester hours.
Web Design and E-Commerce will include the basics of web page design including design principles and techniques as well as learning basic structures and languages of web pages. Content will include HTML/XHTML static page design, Cascading Style Sheets, JavaScript and possibly other tools and frameworks such as AJAX at survey levels. Emphasis will be placed on client-side technologies and static web design. Case studies in E-Commerce and other web-related successes and failures will be a part of this class. Learning Outcomes: Analytical Reading and Public Speaking. Prerequisite: MATH 135 or equivalent.
CISC 334. DATABASE DESIGN AND DEPLOYMENT. 4 semester hours.
Database Design and Deployment will use a commercial database management system to manage and manipulate data. Emphasis will be placed on database design principles and techniques, the DDL and DML of the Structured Query Language and performance characteristics of Database Design. Unlike some database management courses, emphasis will not be placed on formal notations such as Relational Algebra or implementation specifics. In this course, students will actually design and implement a database using the selected database management system. Interactive user interfaces may or may not be used. Case studies in data mining and data warehousing would also be required in this class. Learning Outcomes: Analytical Reading and Ethics of Social Responsibility.
CISC 440. E-COMMERCE IN THE INTERNET AGE. 4 semester hours.
This course, which will serve as a capstone experience, will be a project and case-based E-commerce coverage. Server-side systems will be addressed in this course tying together the clientside development from Web Design and E-Commerce and the back-end database and server support from Database Design and Deployment and Telecommunications for Business. In this course, students will build a functional E-Commerce site or an appropriate sub-system of a functional E-Commerce site and would have to prepare a research paper on a contemporary business and the nature of their E-Commerce solutions. Learning Outcome: Information Literacy. Prerequisites: CISC 305, CISC 316 and CISC 334.