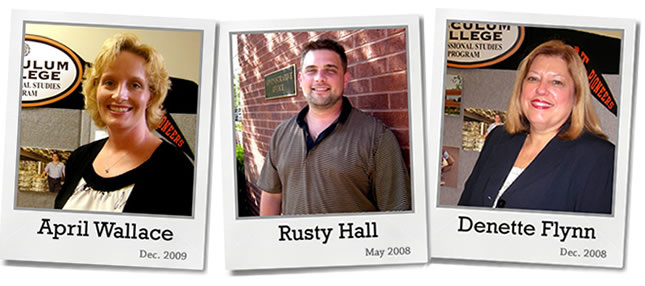 HRD graduates are prepared for careers and roles as entrepreneurs, project managers, strategic planners, team developers, process analysts and performance improvement consultants.
Listen to graduates of the HRD Concentration:
CURRICULUM
Our curriculum follows the Instructional Systems Design (ISD) model with courses in instructional assessment, design, development and evaluation. The curriculum also provides exposure to the more topical interventions in organizational development and change management so that our graduates are able to focus on areas of particular career and organizational interests. The culminating activity - the HRD Consultant Project -- requires each student to select a real organizational performance gap and, while working with a project team and a client, implement the HRD model by analyzing the need, selecting and developing an appropriate intervention, managing change, providing and using evaluation methods, and submitting a report and presentation. Students graduate with a prototype project and report that presents their professional competence to function in a systematic manner to lead organizational change.
Curriculum Description
A brief description of the curriculum follows. For specific course descriptions, see the complete HRD curriculum as listed in the catalogue or obtain a copy from an Enrollment representative at any of our locations. .
The HRD Profession: What is the state of the art of the HRD profession? What are the roles, competencies and professional models that define this profession?
The Adult Learner and Learning Styles: What do we know about adult learners, and how do we use these findings in working with adult learners and groups?
Assessing Individual and Organizational Learning Needs: What methods and tools do we use to determine the nature of an organizational performance gap so we can select the best intervention?
Course and Curriculum Design and Development: How can we use the results of a needs assessment and job/task analysis to create courses and curriculum that comply with how we teach adult learners?
Evaluating Adult Learning: How do we use the Kirkpatrick model and return on investment methods to evaluate organizational effectiveness?
Organizational Performance Management: What is the current state-of-the-art in selecting, developing and using models that manage organizational activities so that performance is at the desired level?
Facilitating Groups: How does a facilitator engage a group in problem-solving, decision-making, conflict-resolution, discussions and team-building?
Organizational Leadership: What does research tell us about various approaches to organizational leadership so that we can adapt our behaviors to develop ourselves as more effective leaders in various types of organizations?
The Consultant Relationship: How does one work with an employer group or an external group to guide them in the professional models of organizational change so that group becomes more effective?
The HRD Consultant Project: A comprehensive synthesis and application of the HRD professional model:
Assessment -An analysis of the performance gap to help identify the correct intervention to recommend to the client.
Intervention and Evaluation -- Development and implementation of the intervention, and development and use of an evaluation plan.
Reporting and Presentation - Completion of the final report and presentation that includes a comprehensive Lessons Learned reflection.
The Graduate HRD Project: Students will have an opportunity to select a particular area of professional practice and engage in a comprehensive organizational development project over three courses. Students are advised to select a project area that is of particular interest to them, or one that may place them in some advantage for career mobility. The HRD project is a challenge to each student, while working with a faculty advisor, to show their level of competence in acting as project manager with a project team or advisory group in implementing the entire HRD model: Analyst, Intervention Specialist, Change Manager, Evaluator.