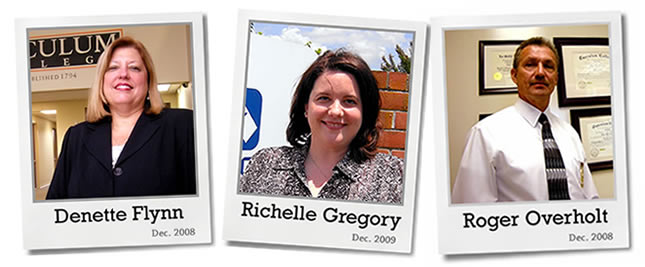 HRD graduates are prepared for careers and roles as entrepreneurs, project managers, strategic planners, team developers, process analysts and performance improvement consultants.
Listen to graduates of the HRD Concentration:
OUR GRADUATES
Our graduates have done some outstanding work in the synthesis and application of their studies throughout the curriculum. It is gratifying to learn that some of our graduates have earned expanded work responsibilities and promotions due to, in part, their demonstrated professional skills presented in their project and report.
While we have over 100 graduates, the following list provides a good example of the varieties of projects students pursue.
Development and implementation of an education program for a local church.
Development and implementation of a Car Ministry for a local church.
Creation and implementation of a membership marketing plan for a local organization.
Creation of a complete training package - job/task analysis, lesson plans, instructional media, evaluation materials - on a variety of topics.
Development of a strategic plan for a local manufacturing company. Another is the development of a strategic plan for a day care center that wishes to become a learning center.
Development of a succession planning model for small municipalities in Tennessee
Development of a volunteer recruitment program for an after-school program for elementary and high school aged girls.
Development of a campus-wide environmental sustainability program for a community college.
Creating of methods to enhance employee behaviors that resulted in enhanced customer satisfaction.
Analysis of a manufacturing process to eliminate waste and increase profits.
Study of a call center to reduce the total number of calls and make the call center more efficient in responding to customers' calls.
Development of on-line training program and materials.
Development and implementation of a variety of team-building projects that include alignment and integration of individual groups.
Creation of competency models for a local manufacturing company.
Streamlining the on-boarding process for a local employer who supplies human resources to other organizations.
Converting HR paper process to electronic processes.
Developing methods to bring the organization into compliance with HR requirements.
Analysis of inventory needs of a large local medical clinic and development of an acquisitions and inventory control program to reduce costs and waste.
The systemization of a training program for a large emergency medical service.
Creation of a program to train volunteers to be teachers in an adult literacy program that was adopted by southern Kentucky agencies.