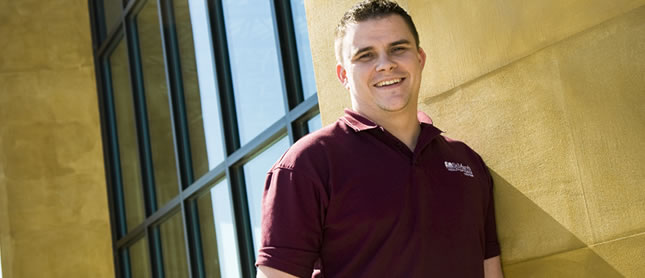 Graduate and Professional Studies provides a variety of program choices for working adults looking to build on their education and to enhance their career opportunities.
MARKETING CONCENTRATION
16 semester hours.
The Marketing Concentration provides students with an analytical understanding of marketing decision-making. Students will be able to generate, analyze, interpret and present the information that organizations need to (a) secure new customers, satisfy and retain customers, (b) build brand equity and maximize return on investment, (c) develop innovative goods and services based on customer needs. Students graduating with the Marketing Concentration will be able to use a wide range of tools and techniques from fields as diverse as sociology, psychology, anthropology, information technology and economics, all taught within the marketing concentration. They will be able to leverage information, technology and knowledge to support innovation in virtually all areas of business, non-profit enterprises and government. As a discipline with broad applications, the Marketing Concentration offers flexible career paths and work styles. Graduates with marketing knowledge are in demand in almost every department of an organization.
Foundation Course in the Major
MGMT 431. PRINCIPLES OF MARKETING. 4 semester hours.
Concentration Courses
MGMT 433. MARKET RESEARCH/CONSUMER BEHAVIOR. 4 semester hours.
A consumer-oriented approach to the number one reason for new product behavior: failing to accurately assess and profile target market opportunities.
MGMT 435. PERSONAL SELLING/CUSTOMER SATISFACTION MANAGEMENT. 4 semester hours.
A consumer-oriented approach to the critical marketing factors of first line contact and relationship building.
One of the following is required:
MGMT 437. MARKETING PROMOTION. 4 semester hours.
A study of how an organization can use the four major tools in the promotional matrix to effectively communicate with and influence consumers.
MGMT 439. ELECTRONIC MARKETING OF PRODUCTS AND SERVICES. 4 semester hours.
The study and application of the Internet as a strategic medium for marketing products and services.
MGMT 443. MARKETING LABORATORY IN NEW AND SMALL BUSINESS VENTURES. 4 semester hours.
A hands-on marketing course for students interested in starting or working for a new business venture and/or smaller business which may lack the expertise and resources of a larger, more experienced business.