CHERI JONES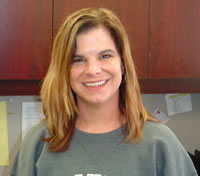 ASSOCIATE PROFESSOR OF MANAGEMENT
Extension: 5613
Email: mfreeman@tusculum.edu
Office: COG North 206
BIOGRAPHY
Cheri Huffman Jones, associate professor of management, brings both private and public sector experience to her instruction. She had a private legal practice in the firm of Rose, Williams, Cornwell & Jones, PLLC in Maryville; she served as director of finance and information services for the city of Athens, and was a staff accountant at Pinkstaff, Daniels & Simpson, PC in Knoxville. She is a certified public accountant and a certified managerial accountant.
She earned a law degree from the University of Tennessee at Knoxville and a master of accountancy degree from UT. At Tusculum, she teaches Business Law, Legal Environment of Organizations, Healthcare Law, and Accounting for Managers. She also served as undergraduate coordinator for Bachelor of Science in Management program.
She is a member of the American Bar Association, Tennessee Bar Association, Blount County Bar Association, American Institute of Certified Public Accountants, and Institute of Management Accountants. She is a member of the Board of Directors for Haven House and a member of the Board of Directors and treasurer for Blount County Children's Advocacy Center.
She and her husband, Greg, have one child, Carson.