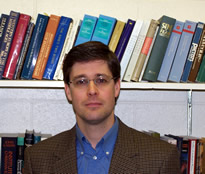 Joel Van Amberg
Assistant Professor of History
Office: COG 104
Ext.: 5355
P.O. Box: 5080
Email: jvamberg@tusculum.edu
Joel Van Amberg, Assistant Professor of History, joined the Tusculum faculty in 2005 after teaching for a year at the University of Tennessee.
Dr. Van Amberg earned his Ph.D. in History with a concentration in early modern Europe from The University of Arizona, where he was part of the Division for Late Medieval and Reformation Studies. As a graduate student he received a Fulbright Scholarship to complete his dissertation research in Germany. Dr. Van Amberg's revised dissertation manuscript has been accepted for publication by Brill.
Entitled,A Real Presence: Religious and Social Dynamics of the Eucharistic Conflicts in Early Modern Augsburg (1500-1530), it deals with ways in which religious, political, and economic concerns became interwoven in ways that fueled popular movements in southern German cities during the early Reformation period.
---
Education:
A.B., Religious Studies, Bowdoin College (summa cum laude), 1994
M.A., Church History, Gordon-Conwell Theological Seminary, 1996
Ph.D., History, The University of Arizona, 2004