MICHAEL HAWKINS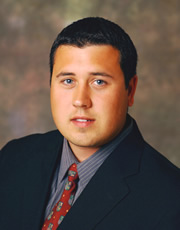 ASSOCIATE HEAD ATHLETIC TRAINER
Extension: 5192
Email: mhawkins@tusculum.edu
Office: Pioneer Arena 111
BIOGRAPHY
Michael Hawkins was promoted to the position of Associate Head Athletic Trainer in 2008.
Entering his fifth year on the Tusculum Athletic Training staff, Hawkins assists in the athletic training needs for all 14 sponsored sports at Tusculum. He is responsible for the athletic training needs of the TC men's basketball team, while also assisting with the soccer programs.
Hawkins came to Tusculum from Troy University, where he served as a graduate assistant athletic trainer since 2004. While at the Troy, Ala. school, he worked primarily with the Trojans' football while assisting with the evaluation, treatment, rehabilitation and documentation of athletic injuries as well as administrative responsibilities. While at Troy, he also assisted physicians from the Alabama Sports Medicine and Orthopaedic Center and team physician in a weekly clinic for the community and the university.
As an undergraduate at Appalachian State University in Boone, N.C., he served as an athletic training student and assisted with men's soccer, baseball, track & field, wrestling and football.
The Murphy, N.C. native has served as an athletic trainer at numerous summer camps including the Alabama High School Athletic Association Baseball Camp and Universal Cheerleading Association Camps.
He is a member of the National Athletic Trainers Association (NATA), is a licensed athletic trainer in the State of Tennessee and is an approved clinical instructor. He is also certified instructor by the American Red Cross in CPR and AED, NATA BOC certified and is an American Cancer Society Fresh Start Facilitator.
Hawkins completed his Masters of Science degree in Sport and Fitness Management from Troy in December of 2005. He is also a 2003 Appalachian State graduate, where he earned his Bachelor of Science degree in Athletic Training. While at ASU, he was a member of the Dean's List (2001-03) and was the four-time recipient of the Murphy Medical Scholarship.
Hawkins is married to the former Summer Green of Murphy, N.C. They are the proud parents of one daughter, Cora Wade, 2, and son Adler Von, April 2009. Michael is an accomplished drummer with the alternative hard rock band, "The Xiphoid Process."