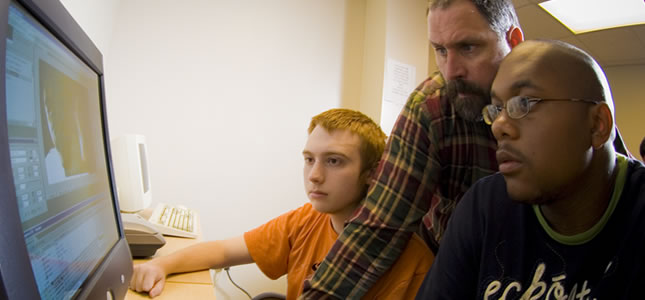 Learn to solve problems, to speak and to write effectively and develop leadership skills.
DON'T JUST TAKE A CLASS, PARTICIPATE IN AN EXPERIENCE
Whether it's in our broad-based core curriculum (The Commons) or specialized study in your major, each course in the Block clearly builds on the last. At the end of each block, you'll have a four-day break. Optional summer blocks are also available.
Classes meet for three hours every weekday -- for 18 days -- so you can discuss a topic or lead a group presentation during one portion of your class, then apply you knowledge that same day in the lab, in the field, during an internship or a civic or faith-based project.
It's not memorizing tons material that will help you reach your goals in life; it's learning to problem-solve, speak and write effectively, work as a team and develop leadership skills.
At Tusculum, an average class size is 16. In fact, upper-level courses often have 10 or fewer students.
If you are looking for a community within a community, our Honors Program enables academically talented, committed students to share in stimulating honors courses, travel and social events. Whether a spaghetti dinner at the director's home or during the independent Senior Honors Project, students create strong bonds of common interest with Tusculum faculty and each other.