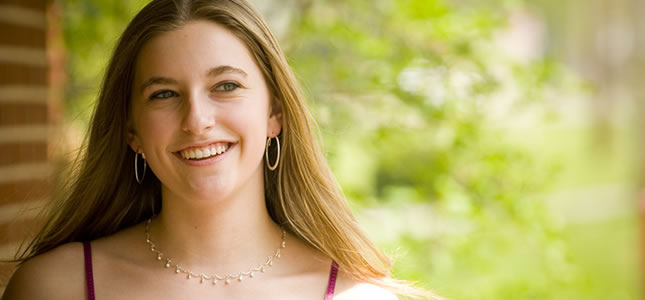 Attending Tusculum College is exciting! But you may have questions before you arrive on campus. We've compiled our most frequently asked questions below.
ANSWERS TO YOUR IMPORTANT QUESTIONS
We've compiled our most frequently asked questions below. Just click on the question, and the answer will appear below it.
If you don't see the answer to your question, you can Ask A Question online, and we will either post the answer here or contact you directly with the answer.
Answer:
YES!
Tusculum College is accredited by the Southern Association of Colleges and Schools Commission on Colleges to award baccalaureate and master's degrees. Contact the Commission on Colleges at 1866 Southern Lane, Decatur, Georgia 30033-4097 or call 404-679-4500 for questions about the accreditation of Tusculum College.
You may also view Tusculum's institutional profile on the SACS website at:
http://www.sacscoc.org/details.asp?instid=76720
Answer:
You can find directions to our campus in the
Maps & Directions
section of the website.
Answer:
You will receive a TC student email address after you make an advance deposit. The email address, along with a password, will be sent electronically to the email address you have provided Admissions. You will receive this by mid August, at the latest. At this point, your account will be active, and you will be able to change your password.
Answer:
Tusculum College requires students to have a 19 composite ACT score to be considered for unconditional admission.
Answer:
Once a student completes a class at Tusculum College, the credit and the grade will be posted to the student's permanent Tusculum transcript. Since Tusculum is an accredited college, most academic classes will transfer to another institution with a similar curricular structure. The best way to ensure the credit will transfer is to check with the receiving college. Some colleges will not accept transfer grades below a "C-."
Answer:
Yes, students are allowed to double major at Tusculum without paying double tuition.
Answer:
The application fee at Tusculum College is $20.00; however, we waive the fee for
online applications.
Answer:
International students do not qualify for federal student loans, but may apply for a private loan if a domestic sponsor is obtained.
Answer:
Your admission counselor at Tusculum College is determined alphabetically, by the first letter of your last name. Visit the
Admission Counselor
listing to meet and find out more.
Answer:
Each deposited student fills out a housing request form, which asks for likes and dislikes. These are used to match up students with other deposited students.
Answer:
We ask that you give your roommate a try for a month. If it doesn't work out, other arrangements can be made to change roommates.
Answer:
Smoking is not allowed in the residence halls. All rooms are smoke-free.
Answer:
There is no particular floor or residence hall for freshman. Rooms are assigned on a first come first serve basis
Answer:
Visitation hours are for friends and family, never for unrestricted public access. Visitation times for opposite-sex Tusculum students are normally:
Sunday through Thursday - 12:00 noon to 11:00 PM
Friday and Saturday - 12:00 noon to 1:00 AM.
Answer:
Fish in a small aquarium are the only pets allowed in the dorms.
Answer:
Local phone service is provided in each room. Students may sign up for individual long distance accounts or use collect-call.
Answer:
Open-coil appliances, hot plates, deep fryers, toaster ovens and similar units are prohibited. However, hot air popcorn poppers, small microwave ovens and under-counter refrigerators are allowed.
Answer:
It is not required for a student to have a computer. Most students use computers for their papers or to access the Internet. All of our students have school e-mail accounts.
Usually there are no problems finding a space in our computer lab. However, computer availability is on a priority basis. Students doing papers or research have first access over students who are just chatting in chat rooms.
If you decide to buy a computer for school, here are the
recommended specifications.
Answer:
The student/faculty ratio is 15 to 1. Classes typically range in size from one student to twenty-five students.
Answer:
Yes, the Tusculum College Honors Program is for bright, inquisitive and motivated students who excel in courses which provide a challenge. As a community of engaged learners, members of the Honors Program are expected to become leaders in their community, raising the level of intellectual debate and civic engagement. Learn more about the
Tusculum College Honors Program
Answer:
Yes, there are religious activities available. Chapel services, available on both Sunday and Wednesday mornings, are not a requirement. The services are Interdenominational. Different religious clubs are available as well.
Answer:
Various organizations such as the Black United Students, HerStory, and the International Student Organization provide social outlets and promote awareness and understanding of the various ethnic representations on campus.
Answer:
Yes, students are allowed to have cars and bikes on campus. However, parking is restricted to designated areas. Places closest to residence halls are for residential students. Places closest to classrooms are for commuters, faculty, and staff.
Answer:
Not really, in a group of friends, there is always at least one friend who has a car.
Answer:
There are some opportunities for part-time work on campus such as the cafeteria and maintenance. There are also work-study opportunities.
Answer:
A campus health educator and a campus counselor maintain regular office hours.
Answer:
An advisor is assigned to each student. The advisor will help each student pick out classes for their yearly schedule. Advisors meet with their advisees monthly on the first day of each class.
Answer:
Tusculum has a
Career Development
office which helps with career choice and development and employment skills development.
Answer:
Quiet hours are established in each residence hall so students can study or sleep.
Answer:
Tusculum is a dry campus. Drinking is not allowed. If a student is caught drinking on campus, there are consequences.
Answer:
More than 50% of the student body is from out-of-state. Therefore, it is very difficult for them to go home every weekend. However, there are some students who do go home weekends and block breaks.
Answer:
From home-style to light fare, there is a wide variety of "all you care to eat" options, including: fresh fruit and salads; delicious, hot, home-style entrées; freshly baked pizza and pasta; deli choices served on freshly baked breads; the grill; homemade soups; freshly baked desserts and soft serve ice-cream selections; and new creations from our chef cooked to order just for you.
Answer:
There are a number of student organizations that plan activities such as dances, special speakers, and bands.There are also games, concerts, and performances that students can attend.

Greeneville also has all that you need to keep yourself entertained. We have a number of restaurants and theaters. The setting of Tusculum in the foothills of the Smokies allows for several opportunities for outdoor activities: hiking, biking, and whitewater rafting. Also, Knoxville, Tri-Cities, Abingdon, and Asheville are all in an hour radius of the school.
Answer:
The ratio of men to women is about 1 to 1. The school is 54% men and 46% women.
Answer:
The minority percentage is 18%.
Answer:
Yes. Between 90-95% of our student body is on financial aid, ranging from scholarships, grants, loans, and workstudy. For more information, visit the
Financial Aid site
.