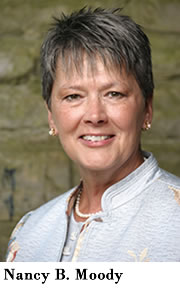 Dr. Nancy B. Moody, 27th President of Tusculum College
Welcome,
I am glad that you are interested in learning more about the oldest institution of higher education in Tennessee, the 28th oldest institution of higher education in the nation, the first institution affiliated with the Presbyterian Church to admit women, and, in 1800, the first institution to graduate a black person in Tennessee. You see the founding of Tusculum College dates back to 1794, two years before George Washington proclaimed Tennessee a state.
Tusculum College continues many traditions dating back to its humble beginnings including a history of admitting a diverse group of students with a wide range of interests and intellect that are looking for opportunities to acquire the knowledge and skills to serve as productive citizens in communities where they hope to serve. These interests continue today with the mission of Tusculum College "to provide a liberal arts education in a Judeo-Christian and civic arts environment".
Students, particularly in the residential college, come from all over the United States and the world. They enter into the halls of academia following their high school graduation or successful completion of a General Educational Development (GED) Test, after completing courses at another institution or after having obtained an associate degree at a community college. Regardless of their background, these students have in common one goal - to receive a baccalaureate degree that will serve as the foundation for their future.
Tusculum College also has programs that are specifically designed for more mature students who may not have entered into college immediately following high school graduation or students who began a college education but, for whatever reason, did not complete the degree initially. The Graduate and Professional Studies programs are for adult students who are looking for an educational opportunity that will allow them to continue to work or raise their family while they pursue their baccalaureate degree. These students are seeking a degree to expand their marketability in the workplace, to better position themselves for promotions at their current place of employment, or to position themselves to seek an advanced degree in a particular area of interest such as in a professional school.
Whatever your interest in pursuing a baccalaureate or higher degree, I would like to extend a personal invitation to you to visit one of our four campus locations, particularly our campus in Greeneville, TN. We want to know more about you, your interests, and to find out if Tusculum College is a good fit for you. Come join our approximately 800 students who live and study on the Greeneville, TN campus, or become part of our Graduate and Professional Studies programs that support about 1,400 adult students at one of our four sites.
I hope that you enjoy visiting our website where we have attempted to reflect the spirit of Tusculum College in these pages, in the faces of our people, in the stories of our successes and in our unique delivery of a quality liberal arts program steeped in our Judeo-Christian and civic arts environment. Get to know us and let us get to know you. I trust that you will discover the dedication of our faculty and staff, the spirit and enthusiasm of our students and the loyalty and support of the Tusculum College Board of Trustees, alumni and friends.
Best Regards,

Nancy B. Moody, President