PARENTS' COUNCIL APPLICATION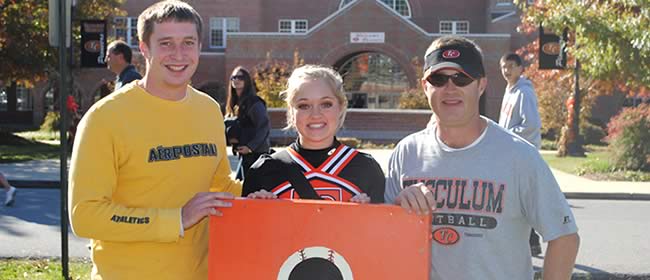 The Tusculum College Parents' Council mission is to facilitate opportunities for parents to become involved in the life of the College and preserve, enhance and improve the quality of the Tusculum College experience.
WHAT: The Tusculum College Parents' Council provides an opportunity to provide direction, offer guidance, act as a liaison and serve as ambassadors for the College in their respective geographic locations, as well as participate and assist with our annual Parents' Campaign, which supports our annual fund and provide input in planning our annual Parents' Weekend.
WHO: The Parents' Council members represent each of the four classes and are eligible to serve for four years or until their children are no longer enrolled at Tusculum College.
PURPOSE: The Parents' Council members serve as liaisons between the College and parents, provide advice and guidance to the Office of Institutional Advancement on programs related to parents, and serve as an effective spokesperson and advocate for the College, providing a forum for exchanging information about Tusculum College activities and programs.
RESPONSIBILITIES: The Parents' Council members must participate in the annual Parents' Campaign and attend or participate in a Parents' Council meeting held on the Friday of Parent Weekend in the fall and/or the spring meeting. Guest speakers, including administrators, coaches, faculty members and students, are invited to the meetings to discuss various aspects of campus life. Parents' Council members serve as hosts at their geographic area's Freshmen Send-Off Picnics or assist to identify parents to host. Held each year typically in July and August, the picnics are an opportunity for the council members to meet Tusculum's newest Pioneers and to answer any last-minute questions from the freshmen parents.
OTHER OPPORTUNITIES: Parents' Council members have other opportunities for involvement including assisting at college fairs, recruitment efforts and regional receptions and events.
If you are interested in becoming a member of the Tusculum College Parents' Council, please complete the following application or contact Ms. Susan D. Vance '91, associate vice president for Institutional Advancement, at 423-636-7303 or svance@tusculum.edu.
Please feel out the form completely. Please fill in all the required boxes, which are marked with an asterisk (*).