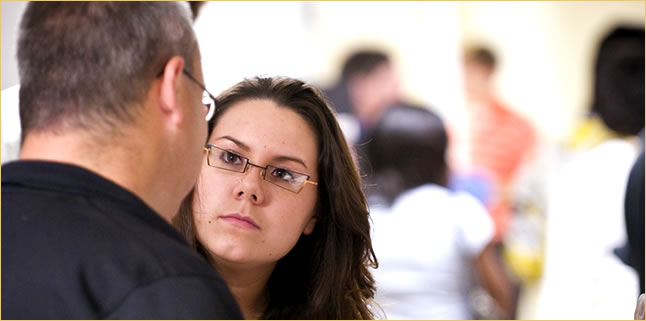 Tusculum College is a learning community where students and faculty members spend time together exploring important areas of knowledge.
DISTINCTIVE ACADEMIC PROGRAMS
Whether in the traditional on-campus Bachelor of Arts programs or in the evening Bachelor of Science and Master of Arts programs for working adult-students, Tusculum College's distinctive academic calendars let students concentrate on focused learning. It's a more-than-200-year tradition, grounded in the belief that we best realize the potential of each individual when faculty members and students work closely together with the ultimate aim of enriching the lives of our students and preparing them to contribute positively to their communities.
THE FOCUSED CALENDAR
For many traditional students, an initial reason for choosing Tusculum is our focused calendar.
For others, its our distinctive programs of study, from specialized areas such as Business Administration and Museum Studies to strong arts and sciences areas such as Biology, English, and Psychology.
Tusculum is well known throughout East Tennessee for the effectiveness of its Teacher Education programs. Students are well-prepared for careers in early childhood and elementary education, in several secondary education subject areas, in K-12 programs in Physical Education and Visual Arts, and in Special Education. But what often seals prospective students' decisions to join Tusculum's community is the people.
A CARING AND MOTIVATED COMMUNITY OF STUDENTS & TEACHERS
Tusculum attracts topflight professors for the same reason that we attract students: small classes with close interaction between professors and students, the focused calendar which allows concentrated study, and a Civic Arts curriculum that emphasizes community.
Our professors are motivated and motivating. Excited and exciting. Whatever your major, you'll find that Tusculum's academics are innovative, and that our faculty is committed to your success.
Far beyond their degrees and credentials –- they are well educated in their respective fields -- our teaching faculty members are creative and interesting people. Our student-faculty ratio is 15:1. A large percentage of our full-time faculty members hold a Ph.D. or appropriate terminal degree.
Our faculty take the ideal of one-on-one attention seriously. The result is higher success in the classroom for both student and teacher.